April 25, 2021 — Nico Cartron
Want to control your (proprietary) io-homecontrol devices (roller shutter, etc.)?
This Velux KLF-200 device is designed for that, let me show you how to set it up and add devices to it!
---
What is io-homecontrol?
Quoting one of the many press releases you can find on the Internet:
io-homecontrol is a wireless communication protocol that can control a wide range of motorised and manual equipment in the home to provide greater comfort, well-being, security and energy efficiency.
The io-homecontrol alliance has a fairly large number of members, including the 2 ones which are of interest for me: Somfy (motors) and VELUX (windows).
Why a specific controller?
io-homecontrol is a proprietary protocol, so it is not possible to control it directly from your home automation software (Domoticz in my case).
So you can either use a system like Somfy's TaHoma (meaning using a closed solution), or use something which can be controlled from your home automation system, using API calls - and this is where Velux' KLF-200 comes into play.
What does the Velux KLF-200 provide?
Simply put, it's a gateway that you connect to your network, and which can control compatible devices (including Somfy motors and Velux Windows), either over wires, or wireless, using io-homecontrol.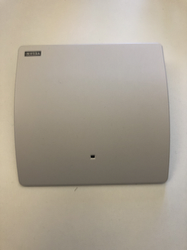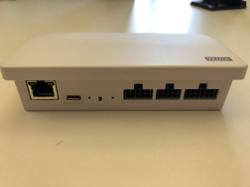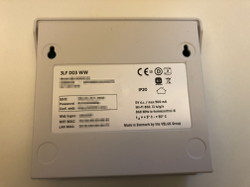 As you can see in the above screenshots, it's a small box (~13x12 cms) with no button, just plugs for power and ethernet cables.
Configuring the KLF-200
Once powered on, you connect to its Wifi network, then connect to the web UI using your favorite browser.
Important: accessing the web UI/adding products is only possible through the KLF-200 Wifi network, which by default is only active for 10 minutes after it has booted.
You then have to choose whether you want to use the KLF-200 as "repeater" (to extend signal range), or as "interface", i.e. directly controling io-homecontrol devices. I'll be using the later.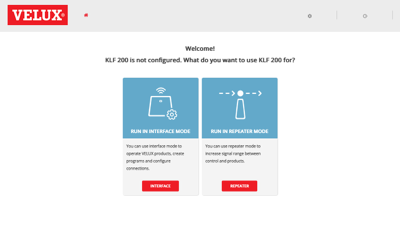 You can then add "products" and configure "programs".
What is nice is that although it's manufactured by Velux, it's compatible with other io-homecontrol products and brands - in my case Somfy.
To add e.g. a new roller shutter, you just have to select "search for products", and follow the procedure for your specific product.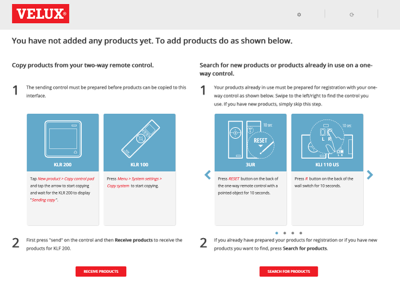 In my case, I'm using Somfy SMOOVE Origin IO remotes, so all it took me was to long press the "prog" button for 2 seconds until the roller shutter moves up and down, and then the KLF-200 discoverd it:
The product then appears in the UI, and you can change its name, and "Identify" it, i.e. when you press this icon, the roller shutter will move up and down so that you can identify which one it is (useful when you control more than 2 devices!).

Wrap up
The setup is pretty simple, but that's really the easiest part we've done :)
In an upcoming article, I'll be explaining how I'm using the KLF-200 from Domoticz to control my roller shutters.
---
Tags: Automation, English